What does this timer mean? Learn More.
Product Description
True Mass Cookies & Cream 5.82 lb By BSN
FOR THE PUREST MASS GAINS™

True-Mass® Ingredient Highlights:
Multi-Functional Protein and Carbohydrate Matrix
BCAAs and other Essential and Non-Essential Amino Acids
Collegiate Protein/Carb Ratio Compliant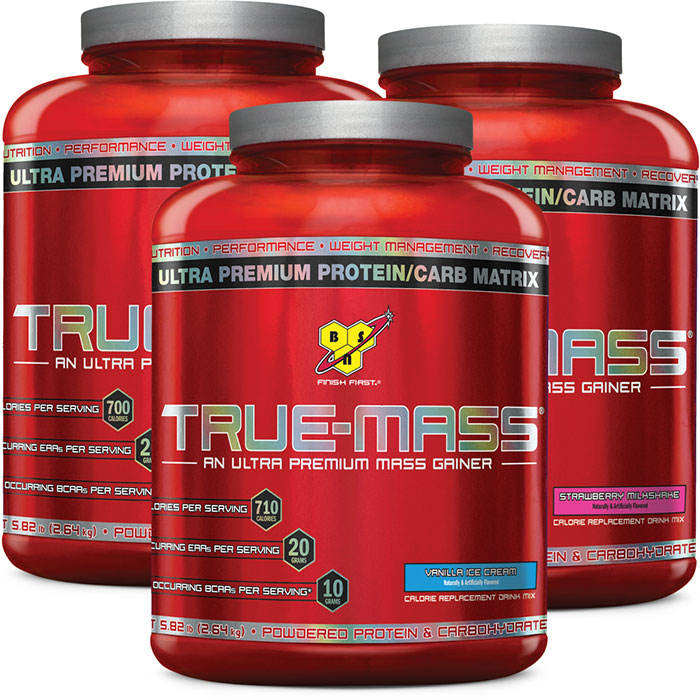 TRUE-MASS® is an ultra-premium lean mass gainer, designed to promote muscle growth.* It features BSN®'s signature ultra-premium protein formula to feed an athlete's muscles with essential protein building blocks.* The unique carbohydrate blend provides the caloric support necessitated by extreme physical exertion, helping the body prepare for and support recovery from intense training.* Healthy fats supply quick-burning fuel to satisfy the serious athlete's energy demands.* And all these high-quality ingredients come delivered with BSN®'s exclusive flavor technology, producing one of the most mouth-watering mass-gaining shakes on the market.
TRUE-MASS®'s balanced composition makes it a nutritious source of caloric support and useful as a healthy meal replacement as part of a balanced diet plan. Its ultra-premium blend of protein, carbohydrates and healthy fats promotes increases in lean muscle mass.* And with a taste that can't be matched, when it comes to mass gainers, TRUE-MASS® is in a class by itself.


DESIGNED FOR: Any individual who needs a calorie and nutrient-dense alternative or addition to regular foods to assist with gaining muscle mass
SERVING SIZE: 3 ROUNDED SCOOPS
SERVING PER CONTAINER: 16
---
Other Supplements You May Be Interested In?